Skora Running
Five years ago, I smoked a pack a day.
Three years ago, I couldn't three a mile without breaking down.
One year ago, I weighed 230 lbs, with a body fat percentage of 27%.
Today, my worst junk food is Diet Coke and pretzels. I can easily run six miles without stopping. I'm 198 lbs and 22% body fat.
When I first treated running seriously just after my 2007 pilonidal cyst surgery, I vowed that I'd never, ever be sick and/or immobile ever again.
For months I searched for running shoes that could help me learn proper form, improve my lifestyle, and train my body to be able to run at any time, on any day of my choosing. Vibram Fivefingers, while a fantastic first step for me, weren't a long-term answer. I wanted shoes, but I hated everything about shoes.
I hated that my feet felt squeezed, I hated that everything had arch support or cushioning, and I hated that every pair I tried on always felt like they were trying to correct something in the way my foot flexed, landed or pushed off.
But run in Vibrams I did. Three half marathons and a Tough Mudder later, I was eager to try something that felt more like a shoe, but way less like a shoe than any of the models I could find in the stores. I'd been following a company out of Portland, OR, called Skora Running and was eager to see what they were about.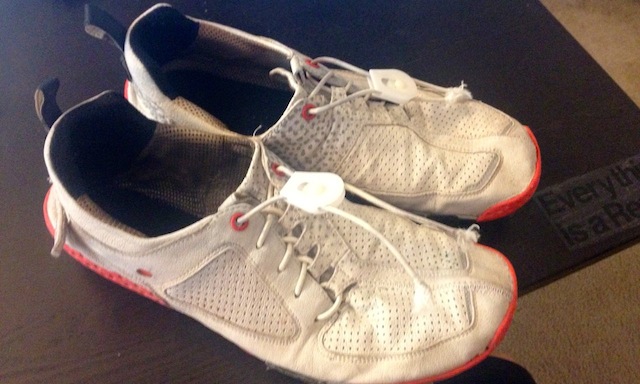 During a February trip to Portland, I stopped by their offices and loved what I saw. These were shoes built for distance runners, runners who wanted to feel the ground, people like me that were willing to pay for quality materials that would feel as good at mile 18 as they did on mile 1.
Hello Skora Form. I've run in 108+ heat in the afternoon, I've run in 85ish at 6am. I've run through mud and puddles of stagnant water. I've run with the insoles in without socks, sans insole with socks, and sans insole and socks. I've run one mile and I've run 12 miles (thus far).
And I'm still running. Want to RunReal too?
I'll post reviews as I create them below. For more frequent updates, follow me on Daily Mile.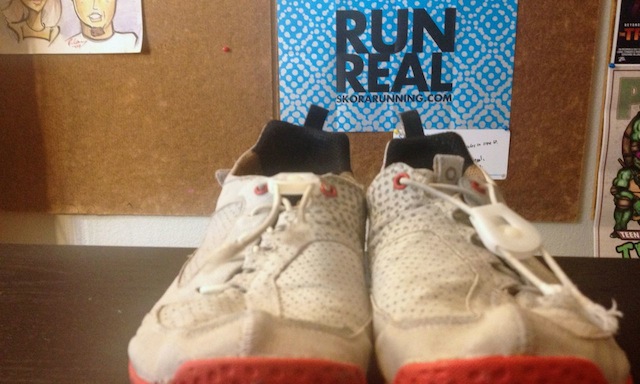 (Skora Running provided me with shoes for review purposes. The white Skora Forms pictured have 70ish miles on them, and have been through mud, standing stagnant water, HOT sidewalks and are left to dry in the harsh AZ sun after I wear them into the shower.)